Sarkodie releases diss track; refutes Yvonne Nelson's pregnancy claims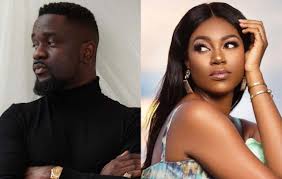 Ghanaian rapper, Micheal Owusu Addo, popularly known as Sarkodie has refuted claims by actress, Yvonne Nelson, that he impregnated her and made her terminate it.
Contained in her recently released memoir, "I am not Yvonne Nelson," the actress made an in-depth revelation into her life as an entertainer, detailing her past relationships with different men in the industry.
Her allegations against Sarkodie are contained in pages 88 to 95 of the book, where she claimed the rapper had impregnated her in 2010, but said a flat no to keeping the child.
Reacting to her claims, Sarkodie released a diss track titled "Try Me", on Wednesday, where he refuted Nelson's account of the story.
Contrary to her allegations in the book, Sarkodie stated that he had asked her to keep the baby even though he was not ready to father a child at the time. He said she however chose to abort because she was schooling.
"So don't you make it seem like I was the one pushing you for abortion cos that be the only part wey make I vex," he rapped in the first verse.
Sarkodie also claimed that the actress tried to set him up a few weeks ago by asking him to meet her privately. She however declined his suggestion to meet at a public place, stating that a bar would be too open. The rapper said in the song that he suspected the invitation was only a ploy to get him back in her bed.
"Nobody is the cause of your bad choices in life, stop the personal attacks," he sang.
"First few hours your book is doing well. Who is sure cos nobody can tell? So it's not because the book is really good but we're living in a world where negativity sells. I pray you get the healing that you need. Don't be claiming good girl, you are for the streets."