Tinubu gets congratulated by  UK prime minister for winning election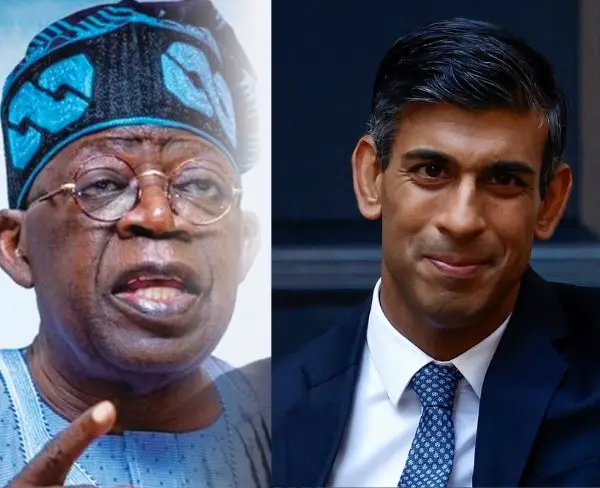 The United Kingdom(UK) prime minister, Rishi Sunak, has sent his congratulations to Nigeria's president-elect, Bola Tinubu, in his victory at the 2023 presidential election.
"Congratulations to Bola Ahmed Tinubu on his victory in Nigeria," Sunak tweeted Wednesday, March 1st.
"The UK-Nigeria relationship remains strong. I look forward to working together to grow our security and trade ties, opening up opportunities for businesses and creating prosperity in both our countries."
Nigeria President Muhammadu Buhari, who is expected to conclude his second tenure in office on May 29th also congratulated Tinubu, who he described as the best man for the job.
"Elected by the people, he is the best person for the job. I shall now work with him and his team to ensure an orderly handover of power," presidential spokesman Garba Shehu quoted Buhari.
"The election was Africa's largest democratic exercise. In a region that has undergone backsliding and military coups in recent years, this election demonstrates democracy's continued relevance and capability to deliver for the people it serves."
Tinubu, a former Lagos State governor, was the candidate of the current ruling party All Progressive Congress(APC) and he emerged victorious though he was closely followed by contenders like Atiku Abubakar of the People's Democratic Party(PDP) and Peter Obi of Labour Party(LP).
He was announced the winner of Nigeria's presidential election in the early hours of Wednesday by the chairperson of the Independent National Electoral Commission(INEC), Mahmood Yakubu.
Buhari urged Obi, Atiku and other contenders aggrieved by the election result and the conduct by INEC to seek redress in court.